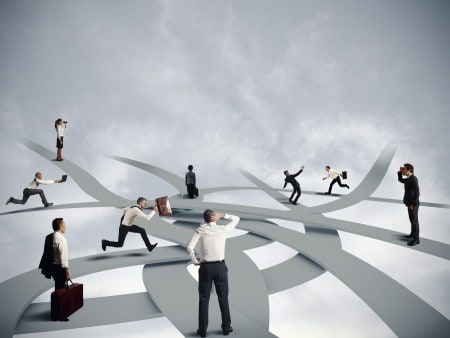 Supply Chain Management Careers are some of the most expansive and diverse disciplines within the business world as it encompasses a broad array of interconnected activities and functions that enable commerce, such as procurement, logistics, inventory planning, order fulfillment, and manufacturing.
Likewise, supply chain career paths are expansive and diverse, especially when you factor in the fact that supply chain touches almost every industry in almost any type of company, from private to public to government to non-profit.
If you're considering or beginning a career in supply chain management, you'll find that it can be a bit overwhelming to gain a comprehensive understanding of the myriad of supply chain career paths to choose from and ultimately decide where to build your career.
The good news is that it's tough to make a bad decision, as hiring is very active across the entire supply chain discipline with the exception of a few industries and job disciplines. Of course, if you find yourself working within a company, function, industry, or job that you don't like, with some effort you can always switch career paths. Know that it's common to make mistakes and go through a bit of trial and error to figure out what career path best suits your unique career goals and aspirations.
I've put together a high-level overview of the various career paths that exist within the field of supply chain management to help you understand what to consider when evaluating and selecting the right supply chain career path for you, from an industry, functional, and service provider perspective.
Industries (Shippers)
In general, companies that manufacture and/or sell commodities or finished goods are commonly referred to as "shippers" whereas companies that provide services and/or products to shippers are commonly referred to as "service providers".
From an industry perspective, supply chain spans all industries so it's important to consider what potential industry you are most interested in or passionate about, whether it's Food and Beverage, Consumer Goods, Energy & Utilities, or Healthcare, for example.
You'll want to gain an understanding of how supply chains can differ from industry to industry as well as from a career path perspective. For example, if you want to work in a company that manufactures products then you need to understand that Retail and Wholesale industries wouldn't be the best options as they don't manufacture any goods.
Lastly, it's very important to pay close attention to industry trends as jobs that exist today may not exist in the near future due to advancements in technology, industries on the decline e.g. coal, and outsourcing of certain jobs to low-cost countries. Here's a sample list of industries that you should be familiar with. Take the time to research the various supply chain career paths from an industry perspective so you can make the best decisions based on your career goals.
Automotive

Consumer Packaged Goods

Retail

Manufacturing

Chemicals

Medical Device

Healthcare

Energy & Utilities

Wholesale Distribution

Consumer Electronics

Aerospace & Defense

And many more



Service Providers
Service providers can vary from companies that design, develop and deploy supply chain software solutions to companies that contract manufacture on behalf of a shipper to transportation carriers that transport raw materials and finished goods via truck, rail, ocean or airplane from point A to B. There are plenty of companies that provide supply chain consulting services as well ranging from the Big 4 to small, boutique firms.
One of the main pros of working on the service provider side is that you would likely receive the opportunity to work with a variety of different companies that can span different industries.  
Supply Chain Technology Firms – WMS, TMS, ERP

3rd Party Logistics (3PL) and 4th Party Logistics (4PL)

Carriers – LTL, Truckload, Ocean, Intermodal, Rail, Air Freight

Freight Forwarders, Non Vessel Owning Common Carrier (NVOCC)

Advisory / Management Consulting – Big 4, Niche/Boutique

Supply Chain Associations – APICS, ISM, CSCMP, WERC

Training & Academia / Universities

Supply Chain Recruiting & Executive Search

And many more
Then there are also

associations devoted to supply chain

that provide content, training, and certification programs, which can help further your supply chain knowledge while building out your network. Of course, there are career paths on the association side as well as in academia and training if this is your passion.



Functional Areas of the Supply Chain
As touched on earlier, supply chains differ in many ways – from company to company and industry to industry. There's no such thing as a "one supply chain model fits all" either as some functional areas can exist in one company's supply chain and be absent in another.
To keep it simple for career path explanation purposes, let's review the core functions that "commonly" (but not always) exist within a supply chain organization. If you are unfamiliar with some of these terms I recommend conducting research in Google, YouTube, the APICS Dictionary and other online sources to learn more. You can search for these terms on job boards as well, such as Indeed.com, CareerBuilder and even LinkedIn, to better understand the typical roles, responsibilities and job qualifications.
Plan

– Supply Planning, Forecasting / Demand Planning, Production Planning, Capacity Planning, Inventory Management, Sales & Operations Planning (S&OP), Integrated Business Planning (IBP)

Make

– Production (of materials or goods), Maintenance, Engineering, Quality, Planning & Scheduling, Purchasing, Warehousing with "supporting functions" that typically include Finance, HR, Health & Safety and/or Continuous Improvement.

Buy/Source – Strategic Sourcing, Procurement, Commodities Management (Direct Spend), Category Management (Indirect Spend)
Deliver

– Logistics, Transportation, Warehousing, Import/Export and Reverse Logistics (e.g. returns management)
Company Type
It's important to factor in company size and ownership when choosing a career path as these can vary quite a bit and impact your career satisfaction and trajectory levels. Companies can vary greatly by size, sector, and scope.
Size:

start-up, small, mid-size, large

Sector:

public, private, non-profit, private equity-owned, venture capital-backed

Scope:

domestic and/or international
In large corporations, you will typically start working within a segment or functional area of the supply chain with access to a lot of resources and more career paths to choose from. In smaller companies, you may wear multiple hats with broader exposure to the supply chain but with access to less resources and fewer career advancement opportunities.
Supply Chain Support Functions
Don't neglect the possibility of working in a business function that supports supply chain management such as supply chain finance or continuous improvement. I like to think of these as "hybrid" roles as while you may not report up through the supply chain department, you are providing critical support services to the department. Career paths within this area include the following focus areas, including my own specialty, supply chain recruitment:

Sales & Marketing (within a Service Provider)

Finance & Accounting

Sustainability

Health, Safety & Environmental (HSE)

Operational Excellence / Continuous Improvement (Lean / Six Sigma)

Human Resources

Supply Chain Recruitment / Staffing

Quality Assurance

Information Technology
Where to Get Started
Still unsure where to get started? A great resource for a better understanding of the myriad of supply chain career paths is through free resources like YouTube. Here you can run some searches on terms such as "careers in supply chain" to identify good sources of video content. If you're fairly new to supply chain management, be sure to check out the YouTube channel for Arizona State University's School of Business or this blog on breaking into supply chain management. 
APICS offers the most popular and respected supply chain certifications so be sure to conduct proper research on their training & certification offerings as many employers prefer candidates that have APICS certifications such as APICS CSCP, CPIM, and CLTD. In addition, I have been serving as the Supply Chain Career Coach for APICS since 2014 and have developed many webinars and white papers that can be accessed via the APICS Career Coach site. Be sure to checkout ASCM's new resources for transitioning into a supply chain management career.
Another great avenue for expanding your supply chain knowledge base is Feedspot's "Top 75 Supply Chain Blogs" through setting up a feedly.com account. Using this free tool allows you to track all blog posts that you want to review in one place on your desktop, tablet, and mobile phone. I have been using Feedly for years to keep a strong pulse on trends and breaking news within the field of supply chain management. Highly recommend it for ALL supply chain professionals!
Last but not least, I encourage you to explore the supply chain career advice section of my website at SCM Talent Group where you'll find our Supply Chain Talent Blog and access to webinars and infographics. All of our content is developed for the purpose of helping supply chain professionals advance their careers e.g. The Importance of Career Planning to How to Create a Job Search Strategy.
I hope this gives you a good overview of the various supply chain career paths that exist and wish you the best of luck with launching and accelerating your career within supply chain management.

To your success!
Rodney Apple